Titch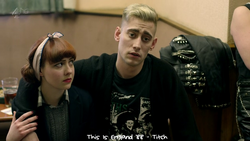 Portrayed by
Autumn Smiles

Titch is introduced as Harvey's girlfriend: they're at a pub with Kelly, Trev, Gadget and Banjo, when Milky arrives. One is immediately struck by her style, much in contrast with Kelly and Trev's. In this first scene, she sports a sort of uniform, an outfit which will distinguish her all through the mini-series. Unfortunately, we don't know anything about her. One assumes she comes from the lower middle class, like most of the characters, or at least she feels part of that part of society.
She's not a skinbyrd and she's not a punk: she usually wears light blue jeans, a short-sleeved shirt with a knitted vest and a dark blazer. This outfit is casual and androgynous but she turns it into something totally feminine with some interesting details. She is present at the fight between Milky and Woody.
Ad blocker interference detected!
Wikia is a free-to-use site that makes money from advertising. We have a modified experience for viewers using ad blockers

Wikia is not accessible if you've made further modifications. Remove the custom ad blocker rule(s) and the page will load as expected.