Harrison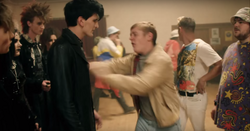 Portrayed by
Haris Salihovic

Harrison, more commonly known as just Haris, is a fictional character in the television series This Is England '90, and he is portrayed by Haris Salihovic.
Characterization
Edit
Haris is the new gothic lover of Smell. After approaching Shaun in the town hall, he is pushed to the ground after a small brawl breaks out.
Ad blocker interference detected!
Wikia is a free-to-use site that makes money from advertising. We have a modified experience for viewers using ad blockers

Wikia is not accessible if you've made further modifications. Remove the custom ad blocker rule(s) and the page will load as expected.